The Trapline Association is a 501c3 organization whose purpose is to raise and donate money for the purpose of improving our community and our resident's experience here through an annual winter festival called Cabin Fever Days. The Trapline consists of a full executive board, several committee chairs and co-chairs, and many other volunteers who pull together to make this event happen each year.
2018 Officers and Committee Chairs
President – Ben Shafer
Vice President –
Secretary – Kelly Weigant
Treasurer – Nonie Pruett
Operations Co-Chair –
Operations Co-Chair –
Fundraising Chair – Lori Kaml
Vending Chair – Erico Romero
Advertising Chair – Stacey Schnebel
Donations Chair – Sarah Beaudette
Float Chair – Kelly Weigant
Children's Events Co-Chair – Elva
Children's Events Co-Chair –
All of the planning, much of the materials and most of the time is donated by residents and business owners for Cabin Fever Days. It's a growing event, with more to offer each year and a completely unique experience of riding shuttles around rural Montana to local dive bars and other fine establishments to watch and spectate at the multitude of events.
All of this fun, and the thousands of dollars we donate each year, is for a good cause, at a great time of year to get out of your cabin! Always in mid-February!
2016 Donations Announcement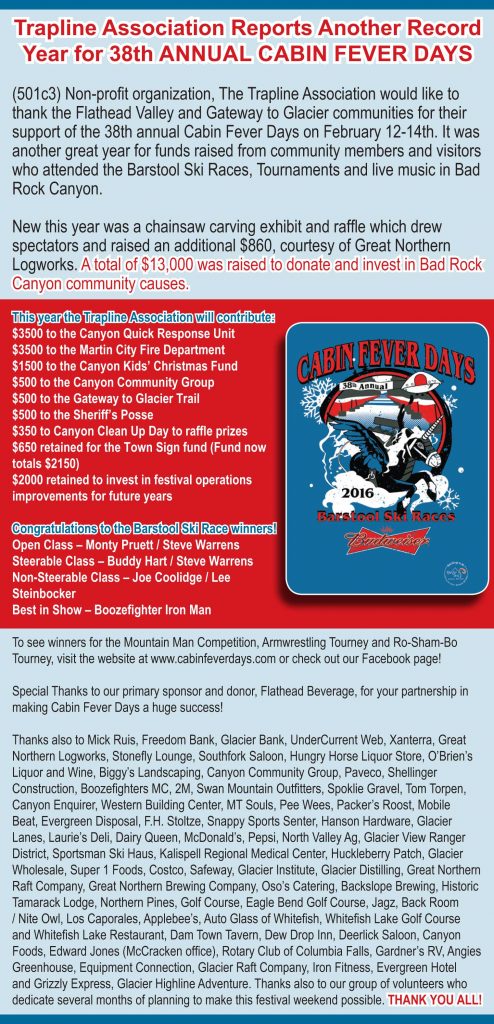 2015 Donations announcement